Hey there. Welcome to Cashflowsy.com the place to help you eliminate the risk of purchasing rental property with our tools to screen and evaluate rental properties.
Our tools are free to use and we welcome your feedback to help us improve them.
To use our tools is really easy. Just click the free real estate investor tool and you'll have free access to them.
What report does our tool generate?
There are many features of our property rental tools. We provide 11 metrics that help you determine if a deal is viable or not eliminating the risk up front. We generate projections over 30 years for income, mortgage payments, operating expenses, equity, cash on cash, property value, loan balance, net profit if sold, annualized total return.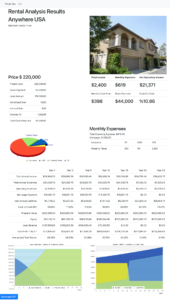 We also provide 3 charts to visually express the benefits of owning your property. There is even a way to download a PDF of a report that you can share with investors or associates.
Start using our free real estate investor tools